Shopping Center at The Hills Residence
By The Hills Residence Vacation Rentals
The Hills Residence Shopping Center in Simpson Bay, Sint Maarten is a vibrant and exciting place to visit. With three restaurants and nineteen shops, there is something for everyone here. Whether you're looking for a sports complex or ready-to-go shops, an optician or medical spa, you'll find it all at the Hills Residence Shopping Center. And if you're staying at the nearby vacation rental, this shopping center makes the perfect destination for a day out with family or friends! Come and explore the Hills Residence Shopping Center for an unforgettable experience during your Sint Maarten Vacation Rentals at The Hills Residence. You won't be disappointed!
The Hills Residence Shopping Center
The Hills Residence Shopping Center is located in the heart of Simpson Bay and offers a unique opportunity for an investment. It has 19 commercial premises, 3 restaurants, and 80 parking slots with units ranging from 52sqm to 312sqm. 4U Real Estate, the property manager of this shopping center have organized a big advertising marketing campaign to promote it as one of the most sought-after commercial locations on Sint-Maarten. With only few units left for rent, now is your chance to own a business at The Hills Residence Shopping Center! This is an ideal spot for vacation rental and commercial use. Don't miss out on this great opportunity! Contact 4U Real Estate today to find out more about leasing a unit at The Hills Residence Shopping Center.
Visit the official website of 4U Real Estate Agency to learn more about the units available, amenities and services offered in The Hills Residence Shopping Center, and how you can take advantage of this unique investment opportunity. With its convenient location, exceptional visibility, and wide range of businesses, The Hills Residence Shopping Center is the perfect place for entrepreneurs looking for a prime business location in Sint-Maarten. Visit the website now to start your journey towards owning your own business with The Hills Residence Shopping Center!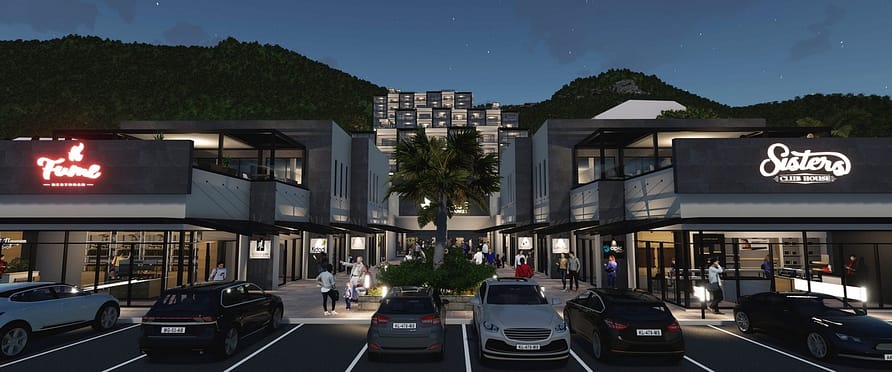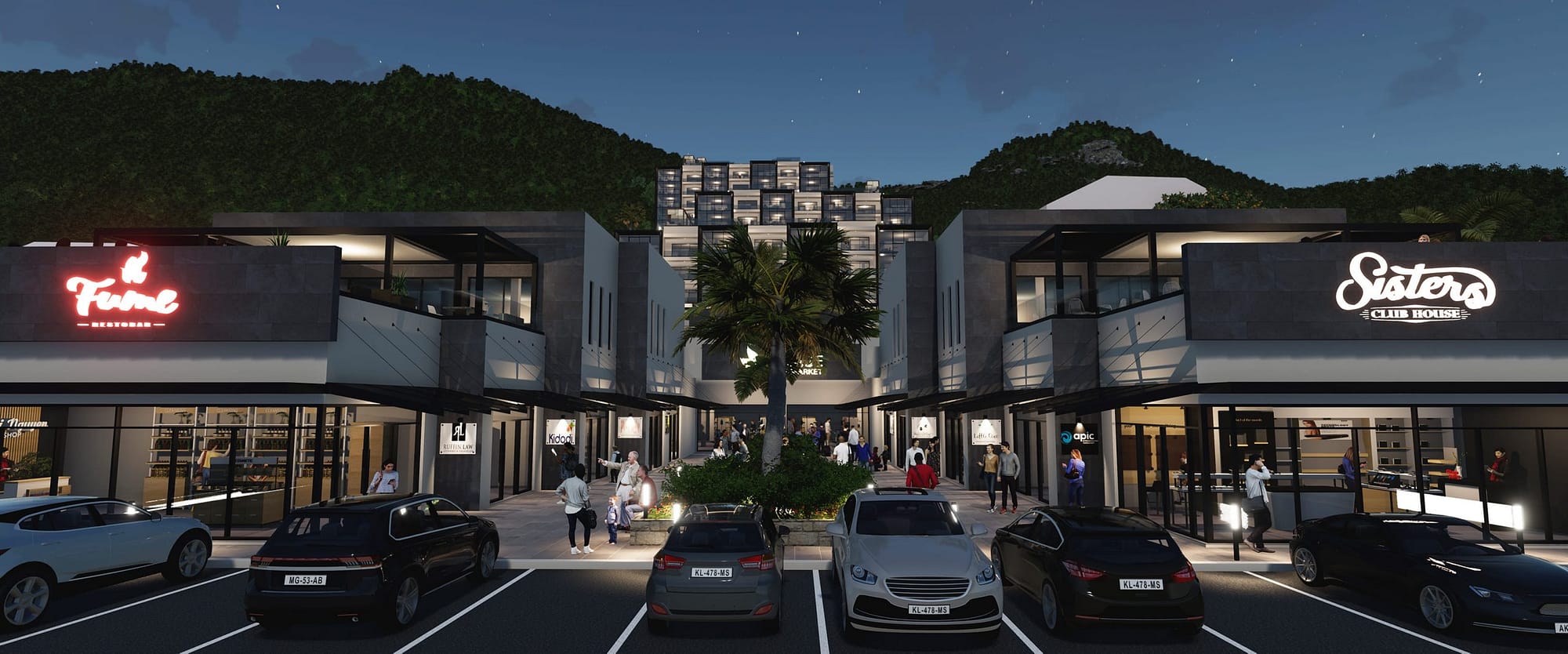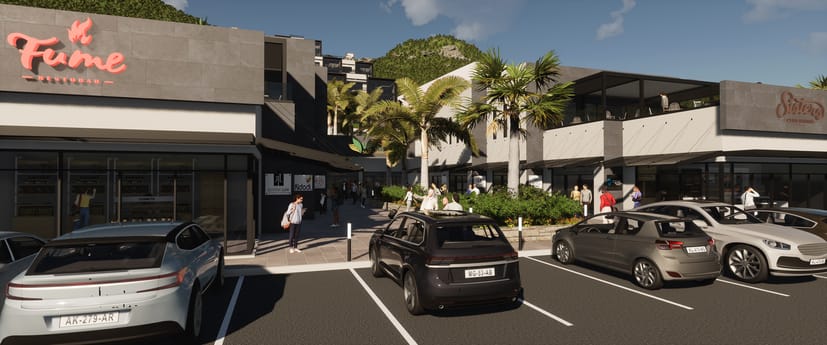 Overview of Simpson Bay, Sint Maarten
Simpson Bay is a port town located on the Dutch side of Sint Maarten island. It offers various attractions such as beautiful beaches, lively nightlife, and duty-free shopping options. You can opt for Simpson Bay vacation rentals and enjoy a range of activities, from adventure sports to a peaceful retreat. Discover historical landmarks like Fort Amsterdam or take a sunset boat trip around the lagoon. Simpson Bay is an ideal location for a Caribbean vacation. The Hills Residence was voted Number one destination of Sint Maarten Vacation Rentals.
Nights comes in Simpson Bay
Experience a vibrant nightlife in Simpson Bay, where you can enjoy an evening of fine dining, dancing or simply relaxing. It is a perfect place with many options available to suit your preference, from lively beach bars to chic lounges and clubs. A visit to The Hills Residence for vacation rentals guarantees you the experience of the nightlife while keeping your budget in check. The Hills Residence is a luxurious rental property situated on the Strip and offers breathtaking views of Simpson Bay Lagoon. It provides easy access to all the best attractions in the area. Come, relax and enjoy the Simpson Bay nightlife with The Hills Residence.
Dining Experience in Sint Maarten
Sint Maarten offers a gastronomic experience unlike any other, making it the ultimate destination for foodies. The island boasts Caribbean cuisine, seafood delicacies, and tropical flavors, catering to every palate. You can savor fresh seafood at local restaurants or learn traditional recipes with hands-on cooking classes. Beyond just food, visitors can explore an array of options. Indulge in rum and wine tastings or visit the island's various markets and artisanal producers for an authentic experience of Sint Maarten culture. With so many options available, Sint Maarten is the perfect place to embark on a culinary adventure.
Discover Beautiful Sint Maarten
Indulge in an unforgettable vacation rental experience by exploring the wonders of Sint Maarten. With its gorgeous beaches, welcoming climate, crystal-clear waters, and lively nightlife scene, this Caribbean destination has something for everyone. Immerse yourself in luxury by staying at The Hills Residence in Simpson Bay, which offers a stunning view of the lagoon. Additionally, try the local cuisine and discover the island's historical landmarks. You will be spoilt for choice with a multitude of activities, ensuring you'll never want to leave! Book your stay with our vacation rentals and experience Sint Maarten like never before!
St. Maarten is a highly sought-after tourist destination situated between the Atlantic Ocean and the Caribbean Sea. With 37 breathtaking beaches boasting sparkling blue waters, powdery white sand, and gorgeous sunsets, it's no wonder that visitors flock to this island. Whether you prefer the serene beaches on the Saint Martin (French) side or the bustling beaches on the Sint Maarten (Dutch) side, the 70 km coastline offers something for every taste. Every beach on St. Maarten is distinctive and offers a unique experience that will leave every visitor in awe.
Activities in Sint Maarten
While staying at The Hills Residence, we highly encourage you to explore and discover both the Dutch part of the island, Sint Maarten, and the French part, Saint Martin. Our team can provide you with expert advice on must-do activities and places to visit, ranging from water sports like scuba diving, snorkeling, surfing, and E-foiling to thrilling adventures like skydiving and ziplining. Thanks to the excellent weather conditions all year round, there are limitless possibilities for you to enjoy and never get bored. So get ready to discover the stunning natural beauty and exhilarating activities that Sint Maarten and Saint Martin have to offer!
Tips and advices for your Vacations
Simpson Bay is a perfect holiday destination with a vast range of activities and breathtaking scenery to explore. Whether you're seeking an adrenaline-pumping adventure or a quiet retreat soaking up the sun, Simpson Bay caters to all your desires. The Hills Residence in Simpson Bay is the ultimate vacation rental that ensures a memorable stay. Here are some helpful tips to make your vacation at The Hills Residence in Simpson Bay one that you'll cherish forever!
Sint Maarten stands out as the perfect place for a beach vacation. The sunny weather and white sand beaches are a big draw for visitors every year. However, what truly sets this tropical location apart from others is its impressive selection of beach restaurants. Whether you're in the mood for a fancy meal or a more laid-back option, there is something to suit every taste bud. The Hills Residence vacation rental is your key source for the best and most unforgettable beach dining experiences you won't want to miss!